California Motor home / RV Insurance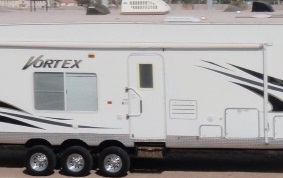 Driving and taking care of a Motor home/RV is very different from a car or truck. So, don't make the mistake of trying to insure yours with a traditional "auto" insurance policy. We've been helping RV/Motor home enthusiasts in Fresno and throughout the state of California for years.
You know the outdoors and the open road. We know Insurance!
Motor home Insurance in California
The type of coverage you need and amounts can vary depending on the type of Motor home or RV you have and how you use it. Do you have awnings or antennas? What do you have inside of your Motor home? How often do you use it? Are you a road warrior or an occasional camper? There are a number of things to consider when shopping for the right insurance.
Su Casa Valley Insurance can help select the right custom California RV or Motor home insurance package with one of the leading Recreational Vehicle insurance companies.
Give us a call or use our secure quote form for a no obligation quote. Let our experienced, professional staff help get you covered so you can focus on that next adventure! We can service your motor home needs in Fresno, California including the Fresno County, Kern County, Kings County, Madera County, and Tulare County areas.
California Motorhome/RV Insurance: How It Differs From Auto Insurance
The open road, the great outdoors, traveling in style - no matter how you look at it, a motorhome or RV allows you a lot of freedom. If you have wondered about insuring your motorhome, you might want to know how it differs from traditional auto insurance. Here is what you need to know.
The Basic Needs
Motorhomes are required by law to have liability insurance while being driven on the road in most states. Full coverage can be optional based on whether you have the vehicle financed, but just because full coverage is optional does not mean you should necessarily opt-out. Determine the value of your RV versus the likelihood of a loss to decide if you can self-insure your motor home's physical damage risk. If you live in your vehicle full-time, it is especially important to consider additional insurance coverage.
The following are the very basics you'll need when choosing a
California motorhome or RV insurance
. These are typically what you will find with a traditional auto insurance policy.
Collision Coverage

– This covers loss or damage to your RV or motorhome resulting from an accident.

Comprehensive Coverage

– Comprehensive protects you against losses from fire, theft, or vandalism.

Bodily Injury Liability

– Liability covers medical expenses to others after an accident.

Property Damage Liability

– This coverage is for damage caused by you to another person's property.
Recreational Vehicle Coverage Extras
The following are part of extended coverage for RVs and motorhomes and are not what you will find with basic auto insurance.
Vacation Liability. This is liability coverage for when your RV or motorhome is kept or parked at a campsite. This is only during vacation times, not when your RV is used on the road.
Emergency Expense. This coverage pays for lodging if your motorhome is damaged or destroyed by a covered loss.
Full-Timers Coverage. This provides coverage that is much like a homeowners policy. If you use your RV or motorhome as a primary residence, this is required coverage.
Roadside Assistance. This helps cover towing expenses should your motorhome break down.
Personal Belongings Coverage. This is an optional type of coverage that covers your personal effects that are kept within the RV.
Keep in mind that in order for your recreational vehicle to be qualified for this coverage, it has to have a few specific elements: There must be a permanently attached bathroom, heat and air, cooking appliances, a drinkable water supply system, a 110 – 125 volt electrical system, and refrigeration.
A Customized Experience
Many of the above extras are considered optional insurance which means you have the opportunity to customize your insurance needs.
For instance, while liability insurance is a must-have if you are operating a vehicle, roadside assistance is not. However, it makes sense to have the best coverage that you can afford and often, you can
combine
your motorhome insurance along with your automobile insurance so that you get the best deal possible.
If you are shopping for RV or motorhome insurance,
contact us
so we can provide the experience you deserve. Our staff is well-versed in all-things insurance related and can ensure that you get coverage that fits your needs in of Visalia, Tulare, Selma, Hanford, and Fresno.
What You Need to Know About RV/Motor Home Insurance – Best Coverage
Do you have the right California motor home or RV insurance? Before you take your RV out on the open highway for a big trip, read these important RV insurance facts and tips on obtaining recreational vehicle coverage.
While revenue from RVs and camping generate over $5.8 billion annually, insuring your RV against thefts, accidents, injuries, vandals, and fires is important. Here are a few stats and tips on helping you find the best RV and motor home insurance.
California Motor Home and RV Insurance
Every year, more than 41.8 million people participate in backyard, RV, and camping related activities, but accidents and thefts can occur. You might not realize it as a new RV owner, but driving an RV is different from driving a car or truck. You might be tempted to find standard auto insurance that covers the basics, but an RV is more like a large home on wheels.
Insurance coverage questions to consider
Coverage amounts for motor homes and RVs can vary depending on use and the type of RV or motor home that's purchased. Questions to ask include:
Will you have expensive equipment inside, i.e., wifi, computers, GPS or weather-related equipment?
Will you have a security system installed?
Will you be traveling with trailers, bikes, or boats?
Do you want your policy to include towing service or road service coverage?
Are there external antennas and awnings?
How frequently will you use the vehicle, i.e., occasionally or often?
Will it be only for travel purposes or will you live in it?
Should you add your RV or motor home under your auto policy?
It's a mistake new RV and motor home owners make. They assume they should just add their new recreational vehicle under their auto insurance policy. This can leave you and your family exposed if you ever need to file a claim. Specialty motor home and RV insurance can cost less than if you add it to your auto insurance policy, despite the fact that it might provide added comprehensive coverage. Talk to your insurance coverage provider.
Specialty Coverage for your RV or motor home
When you purchase RV or motor home insurance, there are different packages that you can choose from:
Coverage for the purchase price: This gives you full reimbursement and helps with depreciating vehicles.
Coverage for personal contents: This includes coverage for not just your vehicle, but all belongings inside.
Coverage for full-time use: This helps if you are living in your RV or motor home full-time.
Coverage for campsite use: This helps if you or your family is injured in a campground.
Coverage for medical expenses: This provides lodging costs if the RV or motor home isn't usable in an accident.
Su Casa Valley Insurance can help you select the right California motor home or RV insurance package that's custom to your needs and we'll help you work with one of our leading recreational vehicle insurance providers.
When You're Ready to Get on the Road
Before hitting the highways, be sure to read up on RV and motor home safety, driving tips for RVs and motor homes, and tips on protecting against theft or damage. When you're ready to insure your RV or motor home, call us at (559) 328-5999 or you can use our convenient online quote form for a free RV insurance quote.Let our helpful and experienced team of professionals help you get the right insurance coverage for your next adventure!
About Su Casa Valley Insurance: Su Casa Valley Insurance provides insurance in California for homes, businesses, ATVs, RVs, and motorcycles, and they offer commercial insurance. We have offices in Fresno, Hanford, Visalia, Tulare, and Selma. Home of the fastest DMV registration services, don't stand in line when Su Casa can do it for you. For the best insurance coverage and rates, get an insurance quote today.