About Su Casa Valley Insurance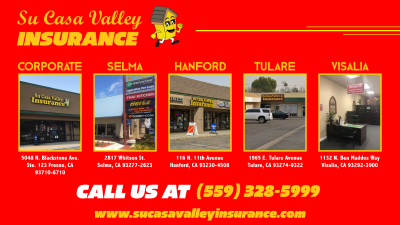 Su Casa means "Your Home," to us that means that Su Casa Valley Insurance Services should feel like your home and we will treat you like family. Welcome to your home for all your insurance needs.
Su Casa Valley Insurance Services is a friendly local family oriented agency we believe in treating you like family. We take pride in providing you with the respect and value that you deserve. We will provide you with true honest quotes with out GIMMICKS!! Our commitment to you is to provide you with the best coverage suited for you with out sacrificing your family with an affordable payment. We believe in HONESTY and INTEGRITY we value your dollar because we know how hard you work for it. Allow us to Protect your Valuable Assets like your Home, Business, Auto, SR22'S, Mobile Home, Commercial, Motor Cycle, Recreational Vehicles and most importantly your peace of mind. Su Casa Valley Insurance will treat you like family we have top rated companies that will respond to your claims immediately and effectively. SE HABLA ESPANOL... give us a call and you will see the difference.
En Su Casa Valley Insurance Los tratamos como familia permitanos demostrar nuestra lealdad a usted... le ahorraremos dinero y momentos desagradables con personas que no quieren trabajar con usted.
Getting on the road is important. You need your vehicle for work or school. If you had an insurance lapse or if you're a new driver, let Su Casa help you get same-day insurance so you can get on the road FAST and get back to work, school or your business.
If you're like me, when you need new insurance or you want to make a payment, you want fast and convenient service. That's what you'll find with Su Casa Valley Insurers. Su Casa isn't like the bigger insurance companies that leave you on hold or treat you like a number.
Su Casa Handles All Kinds of Insurance Policies
Su Casa offers personalized service that can get you in and out the door in record time. Su Casa has all kinds of insurance products that can help if you have more than one kind of insurance you need. Services that Su Casa offers include:
Boat Insurance, Jet Ski Insurance, ATV Insurance, and Trailer Insurance
Condo Insurance, Homeowners Insurance, Insurance for a Beach Home, Vacation Home Insurance, and Renter's Insurance
Automobile Insurance, Motor Home Insurance, and Motorcycle Insurance
Workers Compensation Insurance, Professional Liability Insurance, and Business Owners Policy Insurance
Insurance for Landscapers, Insurance for Painters, and Commercial Umbrella Coverage
Earthquake Insurance and Flood Insurance
Surety Bonds, E&O Insurance, and more!
Same Day Coverage and Flexible Scheduling
One of the reasons we recommend Su Casa is that we have great customer service and several locations where we can assist you. We have locations in Fresno, Visalia, Tulare, Selma, and Hanford. That means you can stop in at any of our locations and have your insurance questions answered and policies set up the same day – even during your lunch hour.
Support Center: We have a convenient support center that can assist with policy changes and questions you might have or to set up and submit a claim form.
Make a Payment: You can set up automatic payments with Su Casa and you can use our claims center for updates on any open claims.
DMV Services: We have a helpful DMV service that can save you from having to sit all day at Motor Vehicles.
Car Registration Replacements
An additional benefit with Su Casa Valley Insurance is that we can help you with your paperwork. Maybe you bought a used car and don't know how to get it registered with the DMV. We offer same-day service that can help to get you on the road quickly with no delays. That way you can get back to work, school, or back home.
New Car Questions About Insurance
If you've bought a new car or truck and you want to now get insurance, let Su Casa Valley Insurance help. What we recommend is giving us a call so we can walk you through the paperwork to bring to the office. That way you don't leave anything behind and have to make a second trip.
Convenient DMV Assistance
Forgot your license or lost it? That's no problem. Su Casa works with the DMV and we can help you get a replacement license or replacement registration as its very easy to get your paperwork started and we have helpful and knowledgeable staff on hand.
About Su Casa Valley Insurance
When you need auto insurance and you want the best insurance rate, call us for an insurance quote. Su Casa is one phone call away and you can reach us at (559) 328-5999.
As an Independent Insurance Agency, we will work with you to get the best coverage rates for your home, automobile, motorcycle, business or commercial auto. Stop in at one of our locations for your insurance help and any DMV assistance you need. Su Casa Valley Insurance: Let us help you cut your insurance cost in California!